General Information:

2023 Miracle Mile Walk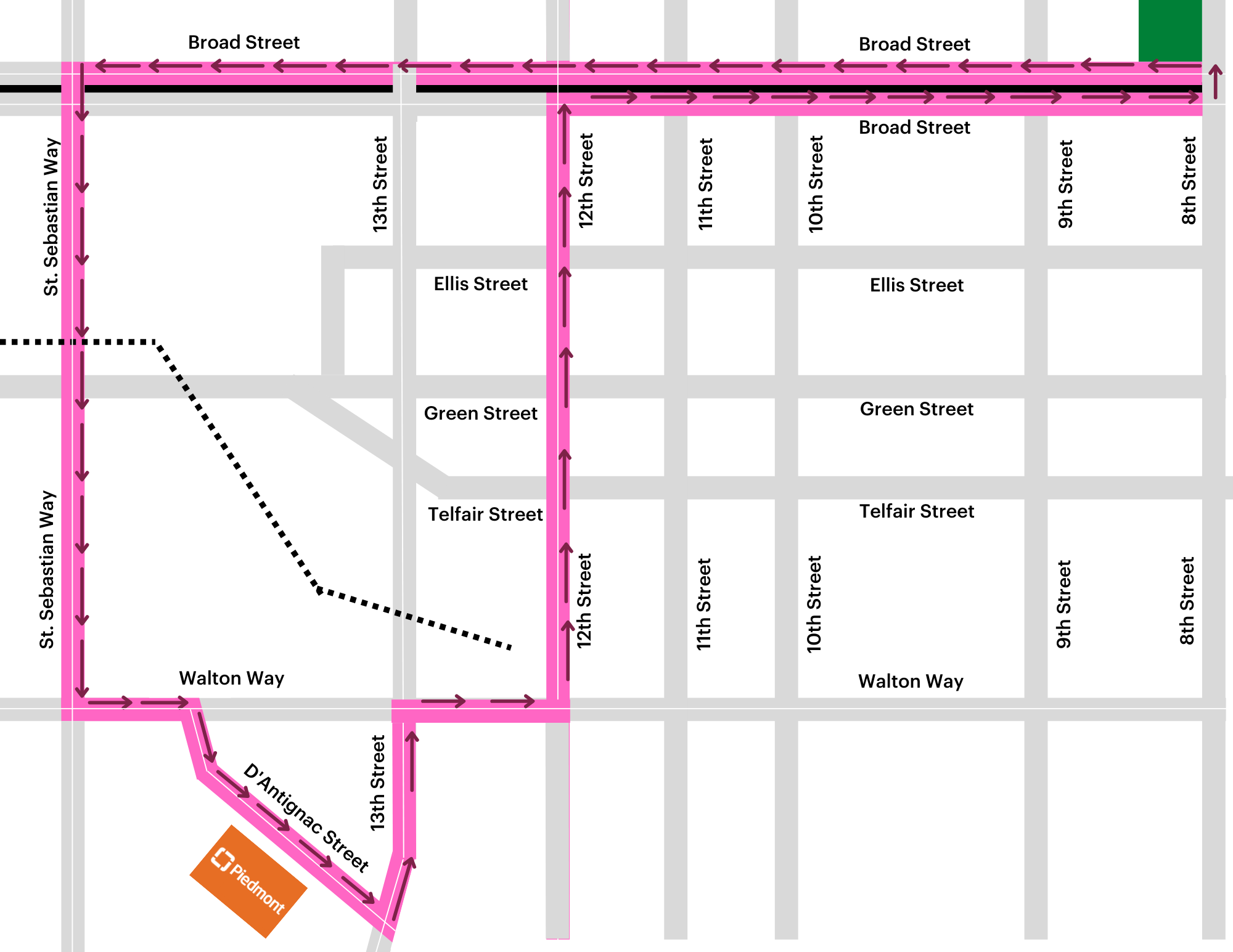 How can I participate in this event?
There are several ways you can be involved in the Miracle Mile Walk.
1. Attend the event. Invite your friends and family and join us on Saturday, Oct. 21 at the Augusta Common. Participants and teams can drop off their donations at our "donation drop off" table and pick up T-shirts.
2. Volunteer. We need volunteers to help make this event a success. See below on ways to volunteer.
3. Register, Fundraise, or Donate. To register as a participant and create or join a team visit our website at www.TheMiracleMileWalk.org and encourage your friends and family to donate to your cause! You can also donate to other teams or individuals on our website.
4. Become a sponsor! For details on sponsorship levels click here or contact us directly at 706-667-0030 or amanda.richardson1@piedmont.org.
Parking
Where do I park? Free on-street parking is available on a first come, first serve basis. There is a pay-to-park parking deck available on Reynolds Street, across from the convention center.
Registration
What is the cost? Registration is free, however we encourage you to raise funds to help support our mission of saving lives in the community
How do I register online and encourage donations? Go to www.TheMiracleMileWalk.org and click "register as an individual." Join as a new participant or log in as a returning user. You can even create your own fundraising page, share it with your friends and family and encourage them to donate to your cause.
How do I register as a team and encourage donations? Go to www.TheMiracleMileWalk.org and click "start a team" or "join a team" that's already started.
What if I want to fundraise outside of my fundraising website? We have fundraising packets available for anyone wanting to collect donations offline from family and friends. We encourage you to register and fundraise online. However, if you'd rather use the fundraising packet you may pick one up at the Piedmont Augusta Foundation office or have one mailed to you.
Raffle Tickets
Where can I buy raffle tickets? Raffle tickets can be purchased at: Piedmont Augusta's Information Desk, Piedmont McDuffie, Piedmont Augusta's Heart & Vascular Institute, Piedmont Augusta's Breast Health Center, and the Foundation Office.
When is the last day to purchase tickets? You can purchase raffle tickets up until we draw the winners. Tickets will be available to purchase beside the stage the day of the walk.
What if I am not in town the day of the event? You DO NOT need to be present to win. Be sure to fill out the ticket with all of your information and we will contact you to let you know if you win. The raffle ticket drawing will be held after the walk finishes.
How much do tickets cost? $5 per ticket, $25 for 6 (Buy 5, get 1 free!)
Survivors
What do survivors get? Survivors will receive a free t-shirt and signature survivor button. These items can be picked up at the Piedmont Augsuta Foundation on T-Shirt pick up day, Thursday, October 19 or at the Survivor Registration tent.
Volunteer
Do you need volunteers? YES! If you would like to volunteer download the volunteer form and submit this form by mail, email or fax by October 1st.
Where do I send the completed volunteer form? Fax: (706) 667-0059 Email: mmwvolunteers1@gmail.com Mail: 2260 Wrightsboro Road, Augusta, GA 30904.
What is the difference between a Preparation Volunteer and a Day Of Volunteer? A Preparation Volunteer will help in the days leading up to the event with packing and labeling boxes, organizing merchandise, etc. Day Of Volunteers will be in the Augusta Common or on the route helping with executing the event. This could be cheering along the route, helping sell merchandise, set-up and clean-up, etc.
Who can volunteer? Anyone over the age of 18 can volunteer. Volunteers also receive a free t-shirt.
T-shirts
How do I get a free t-shirt? Participants who raise $100 or more will receive one free t-shirt. Survivors and Volunteers also receive a free t-shirt.
When and where is T-shirt Pick-up Day? Thursday, October 19 in the Piedmont Augusta - Summerville Campus parking lot from 9:00 am to 6:00 pm.
Can I buy a t-shirt at the event? Yes, Miracle Mile Walk t-shirts will also be available at the event.
How do I enter the t-shirt contest? Submit your original Team shirt design to foundation@piedmont.org by Oct.1 to be entered into the Team T-shirt contest. The winner of the Team t-shirt design will be announced at the walk.
Sponsors
I am a sponsor. How will I receive my t-shirts? We will contact you to coordinate delivery. You can also contact the Foundation office at (706) 667-0030 or email amanda.richardson1@piedmont.org to coordinate pick up.
Will sponsors be allowed to set up a booth at the event? If you sponsor at the premier level and up, you may set up a vendor table at the event.
Donations
Are donation tax-deductible? Yes, all donations are tax-deductible.
How can I make a donation? Donations can be made with a credit or debit card online at www.TheMiracleMileWalk.org. Checks and cash are also accepted at the Foundation office. Checks can be made out to Piedmont Augusta Foundation with "Miracle Mile Walk" written on the memo line.
Other Questions
Where can I pick up posters? If you would like to help us promote the Miracle Mile Walk by putting posters in your community, they are available for pick up at the Foundation office.
What is the Foundation's contact information? Address: 2260 Wrightsboro Road, Augusta, GA 30904 Phone: (706) 667-0030 Email:foundation@piedmont.org